JOB CALL: Mentorship Opportunity for Indigenous Artists who want to become 2D Animators for Turquoise Sky Entertainment
Turquoise Sky Entertainment is seeking Indigenous artists (First Nations, Métis, Inuit) with experience in digital art (drawing on a tablet/Wacom/ipad) to become enrolled in a paid mentorship in 2D digital animation followed by contract position in a funded animation series that is to be distributed in both English and Cree/Michif languages!
Deadline to Apply: Applications will be accepted until July 31, 2023 or until suitable candidate(s) found.
Location: Remote, must have internet connection and access to their own software (Adobe Animate), computer and equipment (QAS has equipment available to rent if needed)
Position Details: Mentorship position of 2-3 months depending on experience, followed by 2-3 month paid contract position.
Rate: To be Determined based on animation and illustration experience. This is a paid-contracted position.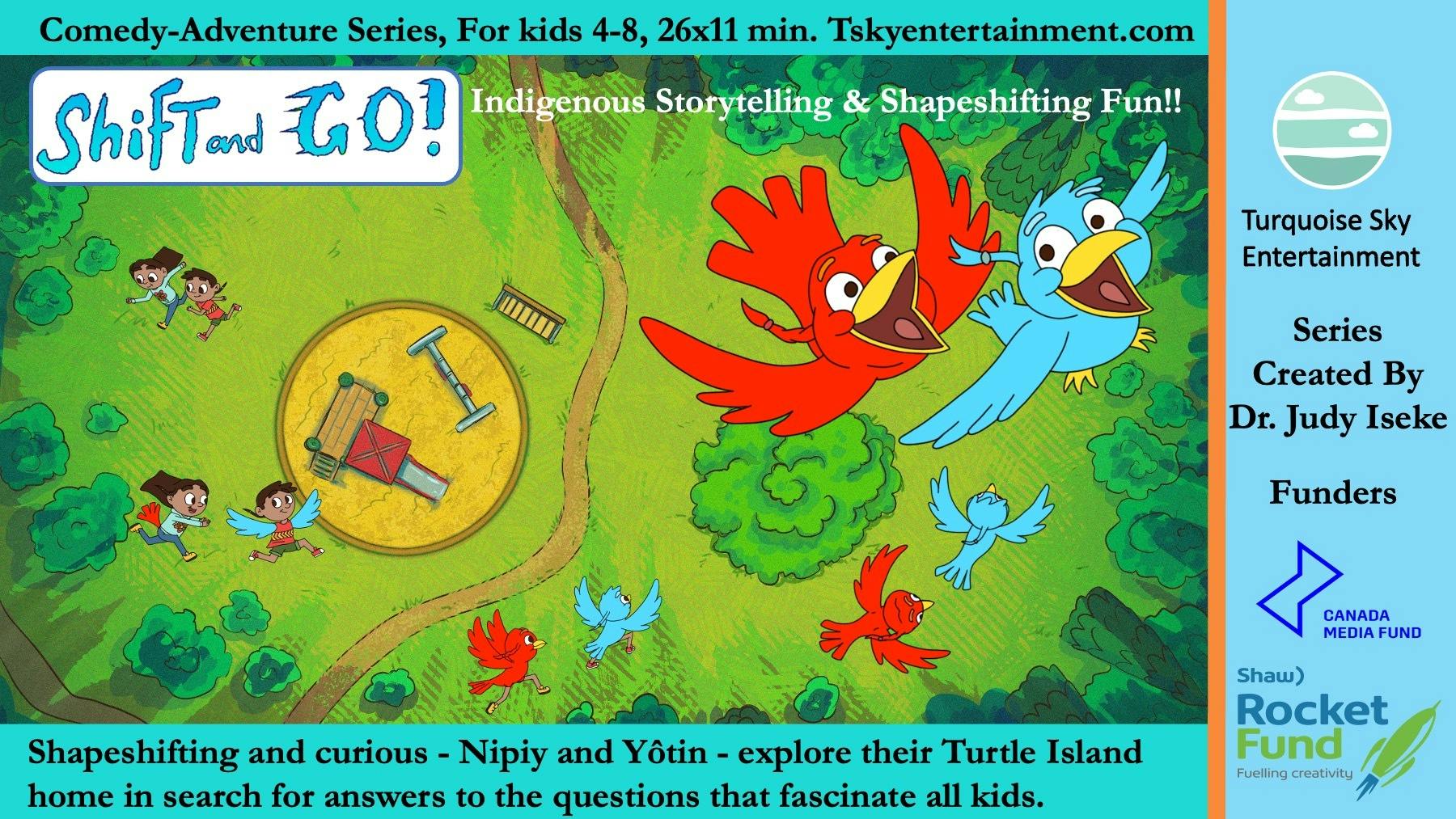 About the Project
Created by Judy Iseke, Shift and Go! is a comedy adventure animated series for children 4-8 years old including two children characters that are shape shifters and their grandparents. Their task is to learn about a complex world.
Mentees will be provided basic skills (walk cycles, hops, skips, basic animation), scene setup from storyboards, as well as lip sync and character acting.  Through additional animation experience mentees will gain proficiency in these skills.
Once proficient, 2D animators will take storyboards and designs from the directors (lead animator and show creator) and animate sequences, and send back for feedback until the shot is approved. Duties will include lip syncing, animation, in-betweening and clean up when assigned. 
Ideal Skills
Artist/Drawing Ability
Knowledge of Adobe Creative Suite or other drawing software
Self-motivated
Ability to work independently
Excellent Communication Skills
Organizational and time-management skills
Available for training sessions, critique and feedback in web conference during daytime or evening hours
18+ years of age
Additional skills considered an asset but not required
Familiarity with basic animation principles
2D Digital Animation Experience
Knowledge of 2D Animation software such as Toon Boom Harmony, Adobe Animate, etc.
Please visit the website of Wasi's Adventures and Turquoise Sky Entertainment for animation style examples from our existing project.
TO APPLY
Please send:
CV
Art samples or portfolio, links to art or animation samples, website link for portfolio
Brief cover letter of interest
Applications will be sent to Judy Iseke at tskyentertainment@gmail.com, and must include the subject line "ANIMATION MENTEE FirstName LastName"
Turquoise Sky Entertainment accepts applications from all qualified Indigenous parties who self-identify as members of First Nations, Inuit, or Métis nations and who can provide confirmation documentation upon request (as per funder guidelines). We are particularly focused on Alberta residents (filed taxes in Alberta in 2021 or 2022 or 2023).